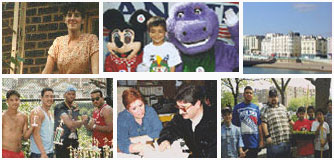 Improving the Community with Social Services
Contrary to popular belief, great neighborhoods don't just happen, they are the product of hard work and dedication from the community. In Brighton Beach, the Brighton Neighborhood Association has amply provided such leadership and vision under the creative direction of Ms. Pat Singer, founder and executive director. This website stands for what we are and what we're about. It is also to be used as a resource that will help students learn about their community, which will enhance their community pride and spirit. Contact us today for more information about the social services offered by the Brighton Neighborhood Association.
Our Dedicated Staff
Our staff includes advocates who speak Spanish, Russian, and English. As a grassroots organization, our staff is very strong and backed by passion and dedication to social services.
Housing Advocacy—we help you find representation and fight for housing issues. We also educate you on tenant laws and housing rights.

Landlord Assistance—we help settle disputes between landlords and their tenants. As well as to help make their buildings Handicapped Accessible.

Social Services—we help you apply for the entitlement programs you need. Whether signing up for low-income housing, food stamps, section 8, or housing subsidies. If you do not understand something you got in the mail, bring it in. We will help.

Immigrant Outreach—we reach out to new Russian, Hispanic and South Asian residents to maximize their experience in our Democratic society. We help give them a voice to address their needs.

Homeowner Counseling—we help homeowners receive low-interest loans from the government through our counseling services.

Tenant Organization—we help tenants to work as a group to address building-wide problems and raise their quality of life.

Health Advocacy—we help you to select a proper Medicaid Plan to fit your needs. As well as help you fill out and send in all needed documentation.

Youth Services—Over the past 40 years we have had very successful After School and Second Chance Summer School Programs. These provided the youths of our neighborhood with needed academic tutoring and a few hours of social recreation. We also continue to provide one on one counseling.
Economic Development—working in symbiotic relationship with our local Business Improvement District we assist local storekeepers with quality of life issues such as public safety and sanitation.
BNA YOUTH AND OUTREACH PROGRAMS
BNA has initiated many programs in its over 40 year history. We wrote a proposal back in the 1970s that laid the groundwork for after school programs throughout District 21, working with the late Councilman Sam Horowitz and the former District 21 School Superintendent, Donald Weber.
We started out overseeing 12 after school programs, however, the jewel of our youth services was "SECOND CHANCE SUMMER SCHOOL" which afforded youngsters who fell behind an opportunity to make up their grades and move ahead with their peers. In the past decade we also have initiated ESL (English as a second language) as part of our endeavors to reach out to the growing New American population in Brighton Beach, Brooklyn. The children enhanced their academic experience with these newly learned skills.
We also incorporated an anti-truancy program reaching out to the parents/guardians of children who were consistently absent to ascertain the reason and to encourage their return to the classroom. Thousands of students including those "at risk" received the needed help to go on to become productive adults.
With the success of our Youth ESL program, and the growing Hispanic population in Brighton Beach, we decided to offer ESL classes to assist both parents and their children in enhancing their English skills. The parents upon completing the course found it easier to navigate the policy and communicate with administrators of their children's local schools. In addition BNA had taken part in a literacy program to help our growing Hispanic population read and understand English. With our on going Spanish Outreach Program we are helping more and more Hispanic speaking residents to navigate in their new society.
BNA has ongoing relationships with various Local High Schools & Colleges, and provides their students with Brighton Beach history lectures.
BNA has been working with the ID NYC Program since it started. We have aided over 1000 residents, in filling out applications and arranging their appointments to help their processing at ID centers go faster.
BNA has also teamed up with NYC CARE, a low to no cost Healthcare service, which enables the unisuarable to see a doctor and get the care they need and deserve.
We try to help raise the quality of life for ALL.