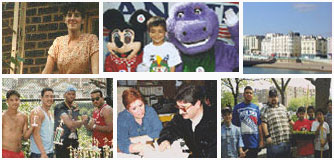 Historic Brighton Beach, Brooklyn, New York
The Wonderful History of the Brighton Beach Neighborhood
Brighton Beach has been the home for immigrants since the 1900s when the first European Jews settled in this beachfront community. The community. Hummed with the sounds of Yiddish for a number of decades, but one day the children of these first settles grew up and moved out.
In the 1980s a new dialogue was heard on the streets, a new wave of Russian immigrants washed ashore in Brighton Beach. It was a cultural shock for them and for the older Americans who remained. Language for many was a barrier frustrating many of the new arrivals. One senior Russian woman explained through a translator, "in Russia I was an educated woman, but now I speak like a kindergarten child." Another Russian man thought he would find the streets paved with gold. Instead he saw blocks of garbage and litter. He was dismayed by the condition of the city. Pat Singer, the Executive Director, held his hand and quietly explained that in this country you can be as successful as you want to be if you put your mind to it. That same man today is a successful businessman who has developed excellent English skills and lives in a co-op. He has a car, TV, and his daughter; Svetlana is now "Lana". Back in 1977, there was a bridge to cross. A Russian housewife believing that the floors were cement took a bucket of soapy water and spilled it over her kitchen floor raining on her neighbor. A Russian Jewish man opened up a butcher store with a kosher sign and sausages hanging in the window. He thought that because he was Jewish, the store was Kosher. Neighborhood Rabbis ascended on him and he received a quick course in Judaism. Back in the 70s, McDonalds closed down here, which should have made the Guinness Book of Records.
Today Brighton Beach Avenue, the main commercial strip, is bustling. We have numerous Russian Nightclubs and restaurants, which could rival Manhattan clubs of the 1930s when long-legged statuesque dancers framed in huge colorful feathers ascend onto the stage to enchant. Presently, the shows feature top Russian singers, specialty acts, mimes, and other entertainers. Brooklyn gave birth to some of the World's top performers and today we see a rebirth of new talent right here in Brighton Beach. Chain stores are now inverting in this "old world" community. Joining the new Russian Americans are immigrants from the Middle East and Asia. Walking through Brighton Beach is much like viewing a kaleidoscope, which is ever changing, yet ever exciting.
Old Brighton Beach Pictures
| | | |
| --- | --- | --- |
| | | |
| | | Brighton Pier & Navigation Company, 1895 |
| | | |
| --- | --- | --- |
| | | |
| Original Brighton Boardwalk Early, 1900s | Brighton Beach Hotel & Boardwalk Early, 1900s | Brighton Beach Hotel Early, 1900s |
| | | |
| --- | --- | --- |
| | | |
| Brighton Baths & Beach, Early 1900s | Brighton Baths, Early 1900s | Brighton Boardwalk & Cottages, Early 1900s |
| | | |
| --- | --- | --- |
| | | |
| Brighton Beach Racetrack, 1914 | Brighton Beach Hotel, 1915 | |
View East Municipal Bath of Boardwalk
Construction, 1922

Brighton Boardwalk Construction, 1922

Brighton 11th Street & Brighton
Beach Avenue, 1927
| | | |
| --- | --- | --- |
| | | |
| Brighton 5th Street, Early 1930s | Neptune Ave Between Brighton 3rd & 4th, 1932 | Hotel Shelburne, Early 1900s |